Medical Implantable Devices & Components
Medical implantable devices and components are designed to be placed inside the human body. They serve many purposes, including replacing or augmenting body parts such as hips or knees, delivering medications, monitoring and regulating body functions, and providing support to organs and tissues. Due to the critical tasks performed by implantable devices, there is no room for error in part design, manufacturing, or delivery.
Marver Med specializes in micromachining implantable devices for the medical industry and many other sectors. For nearly a century, we have provided precision CNC machining services to create a variety of implantable components. We have the expertise and knowledge to machine any precision part for every order:
Contact us or call 781-341-9372 to learn more about how Marver Med can support your application by delivering high-quality precision implantable devices on time and for competitive prices.
Custom Implantable Part Design & Precision Manufacturing Services
There is no room for error when manufacturing precision implantable device components for medical use. Our expert engineers work with your team as we create a part design that matches your goals and specifications, including finding the best biocompatible material, such as stainless steel or titanium, for your device. At every step of production, we use state-of-the-art tools to provide high-performance results.
When you're satisfied with your implantable part design, we proceed to manufacturing. Our machining and micromachining capabilities include: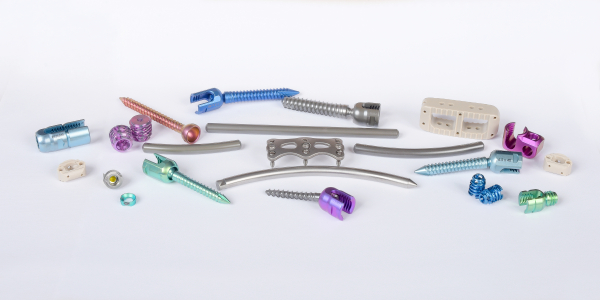 Rigorous Quality Standards to Meet Strict FDA Regulations for Implantable Devices
Marver Med understands the intricacies and stringent quality guidelines associated with medical implantable device manufacturing. Our quality assurance protocols are ISO 13485:2016 certified, and we are continuously working to improve our processes through quality audits, training programs, and more. In addition to meeting our in-house quality standards, we ensure that your project-specific requirements and all FDA specifications are met or exceeded.
Additionally, all finished implantable device assembly and packaging can be completed in our ISO Class 7 clean rooms, which meet FDA quality system regulations and are FDAQSR compliant.
Design Your Custom CNC Machined Medical Components Today
With over 75 years of high-precision CNC machining experience, Marver Med has the component experience needed for high-quality CNC-machined medical devices, implants, and parts for the aerospace and defense industries.
Contact us today to discuss your custom medical implantable device project or request a quote to begin your medical part design process.